The involved parties
Theresa Scharf; event manager at ITP-VERLAG (Pow3r)
Theresa manages all congresses and seminars of ITP-VERLAG where Pow3r is a part off. At every congress or seminar ITP-VERLAG always gives away distinctive promotional items and therefor needs a reliable supplier.

Our German department
Our German department currently consists of 3 project managers; Frederic Weinhold (left), Visal San (Middle), John Möller (right). Together they have a 8 year long combined experience of helping their clients successfully reach their goal.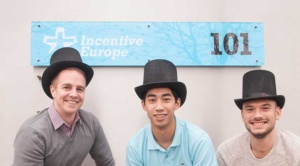 Request from Theresa
Request date: 12/08/2016
"Hi there Frederic. For an upcoming event I need promotional items for Pow3r. The event theme is going to be "Swing", so we would like to have some give-aways that relate to this. I was thinking of two products; branded top hats (for the men to put on) and custom usb sticks in the shape of these top hats."
– Deadline 14/11/2016 –
Order process
When we receive a request like this, the first thing we do is getting to know all demands and wishes of our client. In the same or next contact moment we can provide preliminary answers in what is possible, how much it costs and how long the products will take to be manufactured and shipped to them. A mock-up will always follow this up within 24 hours. If the client is still interested, we will manufacture a sample with the discussed design and print.
Final result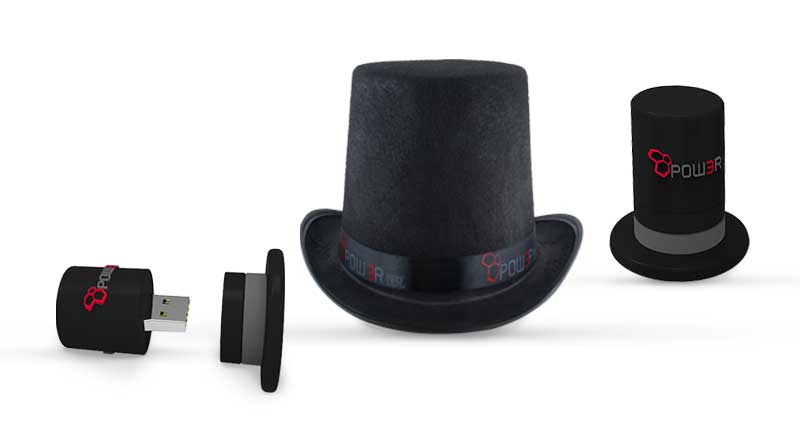 Three weeks after the order was confirmed, Theresa received her promotional products. The branded hats and custom usb stick hats.
Communication is key!
Theresa contacted us 3 months before her deadline. This leaves a lot of room for any possible changes after receiving the mock-up or sample and to be prepared for any shipment problems. Time equals money equals quality!
Click here if you are interested to receive an offer on customised USB sticks.
Follow us on our social network
Follow us on Facebook, Twitter or LinkedIn and stay posted on our latest items. Let us know if you have any questions about ordering any customised products yourself. We are happy to answer all your questions and find you a suitable solution.