Genre Melding, Trend Setting, Chase Nova Band
Dublin born, folk inspired and genre melding, Chase Nova Band approached Usbstick-producer to provide them with custom made USB album for their record launch party on May 26th, 2018. With the USB drive, not only can musicians pack in MP3 or WAV files, but they can also upload promotional materials, music videos and band member profiles. It's a customized and effective way to release music, create a buzz and provide audiophiles and music collectors with special edition mementos. Releasing music with USB flash drives leaves plenty of room for creativity and lowers the cost of production allowing artists to reach their fans even easier. Plus, people absolutely love the novelty of it!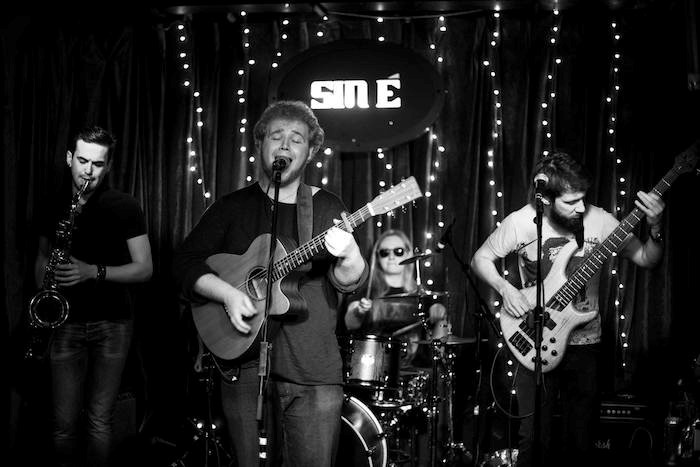 USB Sticks Take Music to the Next Level
Here is what they had to say about their record release party and the USB albums we created for them:
"The night was incredible. The gig sold out just before we went on stage, and there were laughs, stories and obviously music. We most definitely did drink till dawn… [sufficed] to say: we brought 50 USB's and 50 CD's. We have 48 CD's left and 10 USB's left. The future is definitely in selling USB's and the design offered by your company was the best way of preserving the integrity and history of the LP and album in our music, while also offering a modern alternative to CD's. The size of the USB allowed us to use WAV files rather than compressed Mp3's, which means that the more audiophiliac of our fanbase were far more enticed to opt for USB's rather than CD's. The space available also allowed us to include high-resolution images of our artwork and promotional photos and even our music videos for anyone that wished to share them. In our game, word of mouth is everything and providing fans with the highest possible quality files of our music and videos allows any further distribution on their part to be of a quality we feel represents us very well."
Led by former solo artist, Chase Nova, Chase Nova Band consist of Marta Zduniak on drums, Ken Tuohy on bass and Seán Kenny on Saxophone. Chase Nova Band strives to deliver spontaneous and theatrical live shows that leave a listener feeling as if they were an active participant rather than spectator at their events. Always delivering theatrical and spontaneous live shows, Chase Nova Band are a force to be reckoned with on the Dublin live music scene!
The New Age of Album Distribution- A Sobering Fact
The big music makers Universal, EMI, and Warner are all selling music on USB drives. Some ground-breaking musicians have already led the way down the road of the future of music: The White Stripes' latest album "Icky Thump" was released on USB, Matchbox Twenty released "Exile on Mainstream" as a USB bracelet, and even Kanye West has released a single on USB. The Rolling Stones, The Beatles, Willie Nelson, Nine Inch Nails and The Fratellis have also followed suit by releasing USB albums. The USB albums are clearer, offers less clutter and many more extras than a hidden track on a cd. The future of music is upon us, and that future is the music USB. Chase Nova Band's debut album, "The Sobering Fact", is out now on iTunes, Spotify, Soundcloud, Bandcamp, and Deezer!
Follow Us
Follow us on Facebook , Twitter or LinkedIn and stay up to date with our latest products. If you have questions about printing wooden USB sticks, our account managers are at your service.